A taster session for practitioners on the role of bio-identical hormones as a treatment option
Below is a 30-second clip of the video. To gain access to the complete version complete the form below.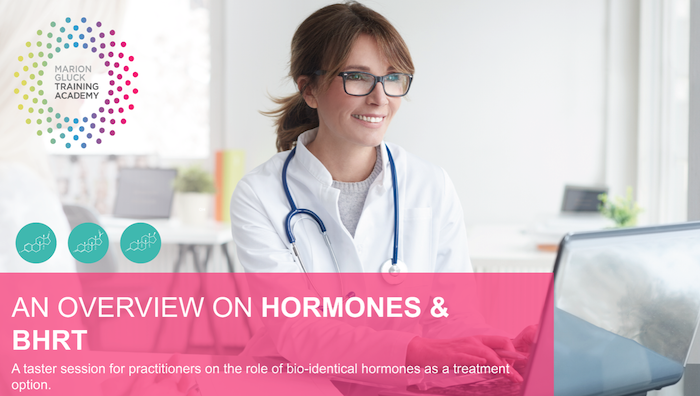 Speaker: Dr Susie Rockwell
Length: […]-minutes
Learn why BHRT is becoming a popular treatment option among patients
With more awareness on menopause, HRT is an area of medicine which is growing rapidly worldwide, despite having been discovered back in the 1930's. Today, BHRT options are available to patients across the NHS often now known as 'body identical' and in the private sector more customised 'compounded' treatments are also used. BHRT is becoming a popular treatment pathway for practitioners who wish to empower their patients by offering them all the options available to them.
Despite popularity amongst patients there is still little known about bioidentical hormones within the medical discipline. In this short […]-minute video Dr Susie Rockwell from the Marion Gluck Training Academy will shed light on BHRT.
In this video we cover:
The role of hormones and their impact on the body
An overview of what BHRT is
Common concerns around BHRT
Evidence for BHRT
Why BHRT is becoming a popular choice for patients
The benefits of BHRT to your practice
Download Now
To gain access to the complete version of the video, please complete the following details